Meetings
September is Basic Education and Literacy Month
Our Rotary Family


BIRTHDAYS
| | |
| --- | --- |
| 9/6 | Chris Gutschenritter |
| 9/18 | Marion Bunch |
WEDDING ANNIVERSARIES
| | |
| --- | --- |
| 9/4 | Robert Hall (21) |
| 9/4 | Charlene Hall (41) |
Rotary Online
https://dunwoodyrotary.org
https://rotary6900.org/
https://rotary.org/
ROTARY CLUB OF

Dunwoody

Fridays, 7:15 am
Le Méridien Atlanta Perimeter
111 Perimeter Center West
Atlanta, GA , GA 30346
LEADERSHIP
This Week's Speakers


Panel of Restauranteurs Address Customer Service and Innovation
Join us Friday as our own Bob O'Brien hosts a panel discussion among local restauranteurs Billy Kramer, Greg Gordon and Geoff Melkonian - with a focus on customer service and innovation. You can join in person at Le Meridien or via Zoom at https://us02web.zoom.us/j/86202979419.
Founder & Owner of NFA Burger, Billy Kramer has been a Dunwoody resident since 1998. Before opening NFA in December of 2019, Billy spent 20+ years in advertising working for various local and national companies with some entrepreneurial ventures sprinkled in between. Billy's wife is a local school teacher. His daughter is on her way to UGA and his son is about to begin his 2nd year at Dunwoody High School. If you've been to NFA, you've probably met the entire family at some point.
Greg Gordon is the new general manager of Porter Brew & Que, the only brewery native to Dunwoody. Starting as a line cook at the age of 16, Gordon has been passionate about the food and beverage industry for many years. He has worked in the Dunwoody food and beverage market for 20 years, where his career started as a manager of the Dunwoody Country Club, where he oversaw all facets of their food and beverage program for 10 years. After his extended time managing at Dunwoody Country Club, Greg started his own catering company, Gordon's Gourmet, to expand on his passion for culinary and serving others. Eventually, his catering endeavor led to starting a Food Truck company with two other Dunwoody Locals, The Food Movement.
Co-founder of Breadwinner Inc., Atlanta native Geoff Melkonian earned a double bachelor's degree in music (viola performance and recording production) from Northwestern University. Upon returning to Atlanta, Geoff worked under renowned chef Michael Touhy during his reign at Murphy's, a beloved Virginia Highlands staple, for three years as both a line cook and deli manager. While honing his culinary skills at Murphy's, Geoff still indulged his passion for music. He made five albums and spent ten years playing upright and electric bass and viola and singing backing vocals in the Josh Joplin Group. He appeared as a musical guest on "Late Night with Conan O'Brien" and the "Late Show with David Letterman" and toured the states and Europe. In 2005, Geoff and his wife, Katie, founded Breadwinner Inc. [more]
Networking Opportunity


Rotary Means Business Draws a Crowd!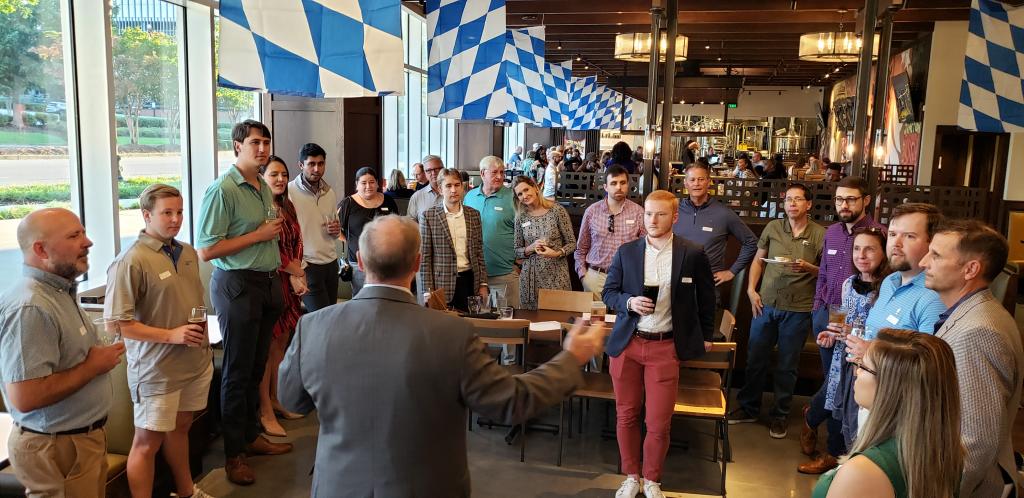 Dunwoody Rotarians joined with Rotarians from the Sandy Springs, Tucker, Peachtree City and Atlanta Metro Rotary Clubs for this month's Rotary Means Business gathering. it was a great meeting; think about joining us October 19 at 5:30 pm at Iron Hill Brewery & Restaurant, Perimeter.