Meetings
October is Economic and Community Development Month
Our Rotary Family


BIRTHDAYS
| | |
| --- | --- |
| 10/2 | Felicia Voloschin |
| 10/7 | Mike Parks |
| 10/13 | Terence Shortal |
| 10/17 | Tanaka Mutambaneshango |
| 10/22 | Teak Pacetti, Jr. |
| 10/24 | Bill Woulfin |
| 10/24 | Charlene Hall |
WEDDING ANNIVERSARIES
| | |
| --- | --- |
| 10/2 | Ed Godshall (13) |
| 10/10 | Lorri Christopher (40) |
| 10/12 | Gary Lane (18) |
| 10/17 | Jennifer Shumway (0) |
| 10/25 | Dottie Toney (7) |
| 10/31 | William Kelly, Jr. (34) |
Rotary Online
https://dunwoodyrotary.org
https://rotary6900.org/
https://rotary.org/
ROTARY CLUB OF

Dunwoody

Fridays, 7:15 am
Le Méridien Atlanta Perimeter
111 Perimeter Center West
Atlanta, GA , GA 30346
LEADERSHIP
This Week's Speakers


Stephanie Freeman and Shavonne Reed, Dunwoody Chamber of Commerce
This Friday, we'll hear from Stephanie Freeman and Chavonne Reed of the Dunwoody Chamber of Commerce. You can join us in person at LeMeridien or via Zoom at https://us02web.zoom.us/j/86202979419.
As President and CEO of the Dunwoody Perimeter Chamber, Stephanie is dedicated to continuous organizational and community improvements in the face of a rapidly evolving and changing market. She promotes active participation and collaboration through a variety of initiatives to enhance the quality of life for the citizens of the City of Dunwoody and the surrounding region.
Chair of the Dunwoody Chamber, Shavonne describes herself as a "Marketing & Communications expert, on a mission to broker happiness and well-being for a healthier and happier world." She is a speaker, trainer, facilitator and author. Her company - OPUA Agency - enables mission-driven organizations to raise health-consciousness through effective marketing and communications awareness initiatives.
[more]
Rotary Means Business


Network with Rotarians from Around the District on October 19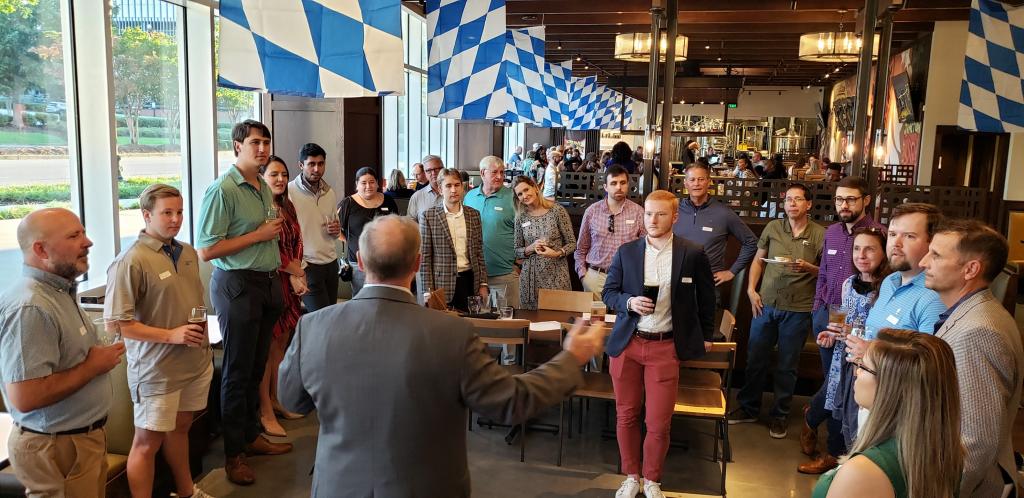 That's when the Rotary Means Business fellowship will gather again - at the Iron Hill Brewery & Restaurant, Perimeter. Last month's gathering drew a crowd - with Rotarians from the Dunwoody, Sandy Springs, Tucker, Peachtree City and Atlanta Metro clubs. A brief presentation addressed effective uses of LinkedIn and other marketing strategies, then attendees enjoyed the opportunity to network. So plan to join us on October 19 at 6:30 pm.