Golf Tournament Update


Keep Thinking (and Acting on) Sponsor Opportunities!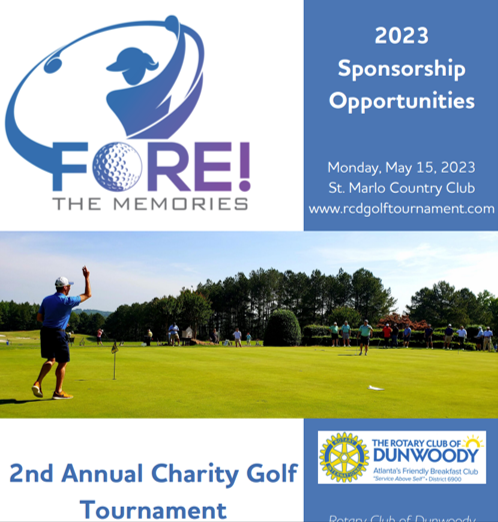 With your help, our May 15, 2023 FORE the Memories Golf Tournament can become a major fundraiser - benefiting the Alzheimer's Association and the Rotary Club of Dunwoody Charitable Fund. How can you help? Right now, as we tee up this year's tournament, you can help identify local businesses and individuals who might want to be Tournament Sponsors - because it's good exposure for their business and/or because they want to help in the work we do in the community.
With the help of the Alzheimer's Association, we have created a great sponsor package you can share with everyone who might be interested in becoming a tournament sponsor. To make that easy, we've added the document to our Resource library - you can click on 2023 Fore the Memories Golf Tournament Sponsor Package to take a look, download to share with friends or businesses, and even take a look at what you might like to do to sponsor this major fund-raising event.
You can also direct people to our website: 2023 Event - FORE! The Memories
If you have questions about how you can help, contact me, Charlie Augello or Rick Woods.
Posted by Bob O'Brien
February 2, 2023